Principal Profile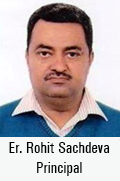 Dear Students,

Rohit Sachdeva is principal at BIS Polytechnic College Kot-Ise-Khan, Moga (Punjab). He has completed B.E. (Electronics) from Nagpur University, M-Tech and MBA from K.S.O.U. Mysore.

He has 20 Years Experience in teaching and 1 year experience in marketing.

Rohit Sachdeva has established BIS Polytechnic College as the one of the reputed polytechnic college imparting quality technical education and training in various fields.