Director Message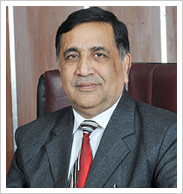 Since 1998, as one of the pioneering institutional group of education in Punjab, BIS has developed distinct brand equity. The learners here challenge assumptions, think beyond visible limits, and add the value of excellence in whatever they do. What makes BIS different from other educational groups? BIS allows you to regularly interact with diverse disciplines available only in a University set-up that shape multi-talented leadership potential in you holistically. You encounter an enriching learning environment both within and outside the class-rooms. You rejoice the strong bonding that is only possible in small batch sizes that BIS group programmes offer. You regularly interact with professionals from premier establishments--both national and international. You not only get the benefit of the expert faculty but also get mentored by the global alumni who have, over the years, brought laurels to their alma mater. You remain future-ready at a time when the Indian economy is gearing up to fresh challenges and exciting opportunities. BIS gives you one of the best returns on all your investments that you would ever make in your entire life, anywhere in the globe.
Demand for high-quality professionals will keep growing in every industry. As a thought-leader institution, BIS has different educational programme in different professional streams ie. Management, Engg., Pharmacy, Computer Application , IT etc. The courses are very successfully administered and running in the various campuses of BIS group. We shall continue to explore new growth avenues through our core competencies of Training, Research, Consultancy and Networking.
The world today is a much better place to develop ones potential. One is not limited by choice or technology, but only by the power of one imagination. It is this message that we give to the students joining our institute or are graduating out. So whether you are a corporate looking for business leaders or MBA or Technology aspirants hoping to be one - we invite you all to come, explore the world of BIS and become a part of our glorious tradition.
Our best wishes to you for an exciting journey.
Dr. R.P.Gupta
Director
B.I.S Group of Institutions